Read and download part one of the white paper here. Download part two of white paper here.
1. Introduction
Technology platforms provide a seamless clinical trial infrastructure that benefit biotech companies directly by addressing challenges faced in clinical research, and indirectly by improving the clinical trial experience of pharmaceutical and biotech companies, contract research organizations (CROs), clinical research associates (CRAs), site staff and patients. Each with an important role, stakeholders are jointly responsible for achieving research goals. In this paper, we describe the benefits of tech-enabled clinical trials from the stakeholder perspective and how it translates into the fast execution of clinical trials, while maintaining high quality.
2. Benefits of clinical trials enabled by technology platforms
Recent research identifies the advantages of technology-enabled remote monitoring from the perspective of different stakeholders in the clinical trial ecosystem (please see Figure 1).
Industry perspective
The application of technology platforms to clinical trials has demonstrated an impact on subject recruitment and retention, data collection and data analytics. In addition, the benefits of clinical trials run on technology platforms include a faster time achieved during study initiation, an option to reduce sites and study resources, and ultimately complete studies which are timesaving, cost-effective and successful.
CRO perspective
With a reduced need for sites and investigators, CROs can focus their attention on designing a patient-centered study. Patient recruitment and retention is improved through streamlined recruiting and faster enrollment. The use of technology platforms also increases geographical reach and participation by underrepresented groups. As a result, time to initiate study is reduced. During the trial, site burden of electronic data capture (EDC) is reduced and remote real time data review improves accessibility. On aggregate, these benefits lead to a shorter trial duration and reduced cost.
CRA perspective
Remote site access allows CRAs to monitor multiple sites concurrently while still maintaining communication with key stakeholders. Through the technology platform, CRAs have 24/7 monitoring capabilities to access and review data remotely. In terms of resources used, there is a decrease in travel costs as well as reduction in CRA time needed.
Site perspective
Sites benefit from a reduced burden of EDC and an automated query process. Integrated with the study management system, scheduling and subject tracking is also made easier.
Patient perspective
At each touchpoint in the patient's journey, tech-enabled engagement has made participation more accessible, decreased the burden of time and cost needed for in person clinic visits, and provided more flexibility for joining trial activities e.g. training (Ali et al., 2020). To the benefit of patients, the time and focus of sponsors, CROs and CRAs which was previously split between participants, investigators and sites can now be focused mainly on participants. Geared towards reducing the burden of participation, patients benefit from greater comfort and convenience, fewer in-person visits, and where appropriate, receiving study medication shipped directly to their homes and nurse home visits for any protocol specific blood collection or physical exam procedures.
Figure 1. Advantages of Technology-enabled Remote Monitoring, by stakeholder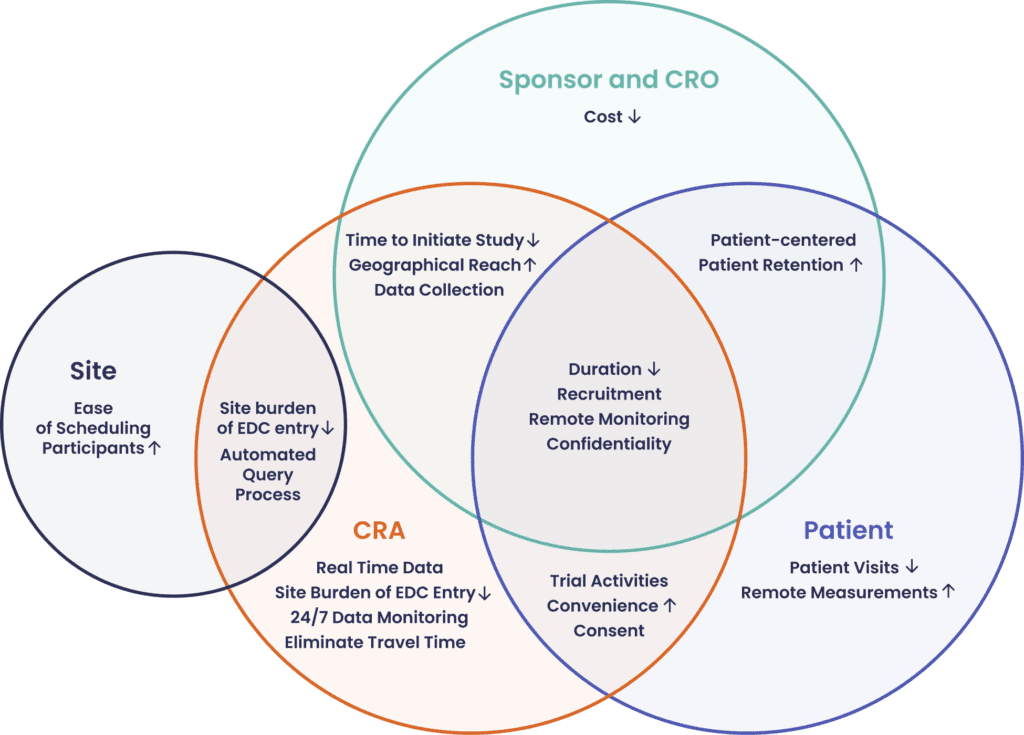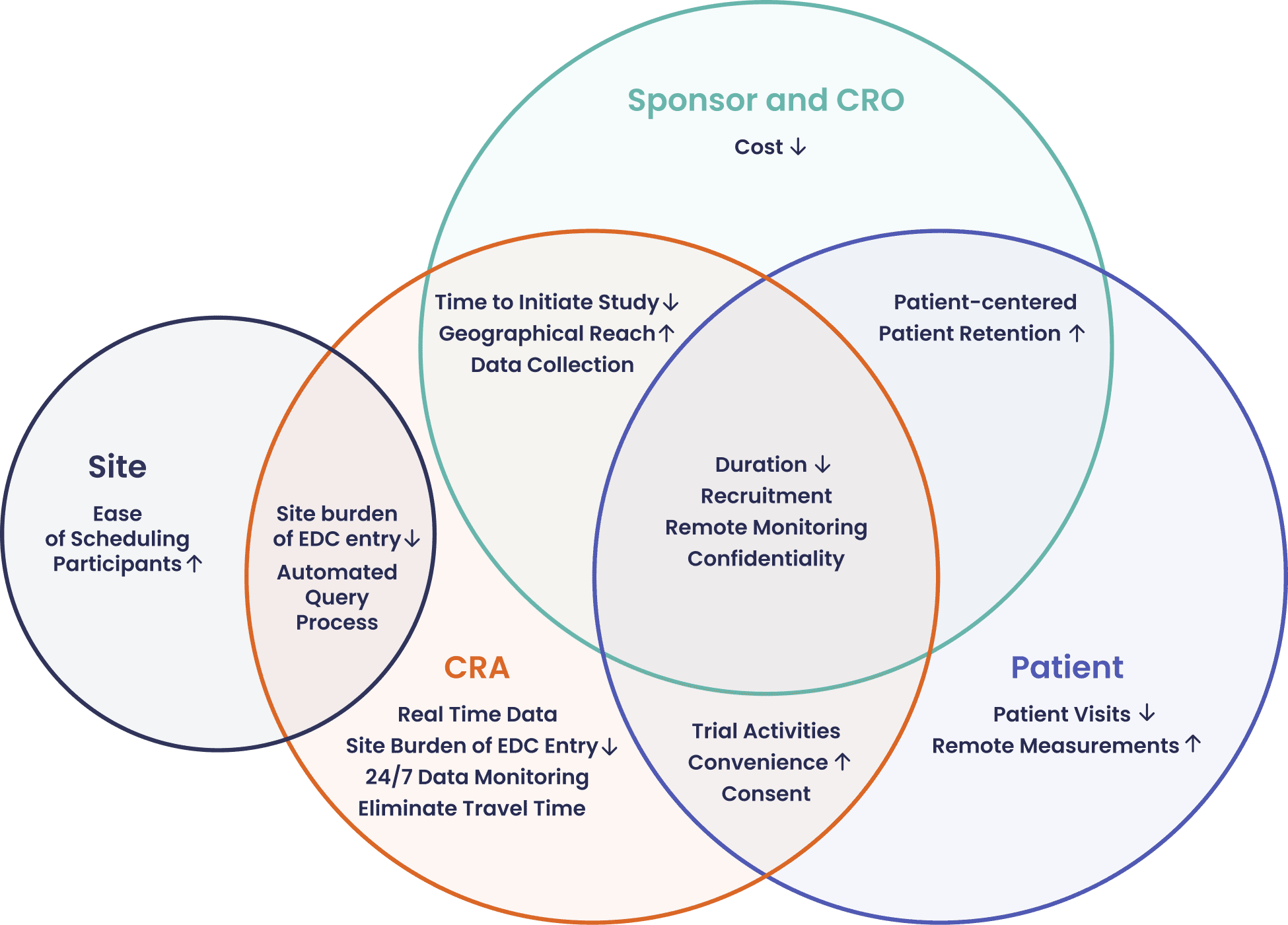 With the advent of new forms of patient engagement and innovative uses of technology in conducting trials, recent studies on the challenges and opportunities in clinical research have compared traditional studies with tech-enabled studies at various stages (please see Table 1).
Table 1. Advantages of Technology-enabled Clinical Trials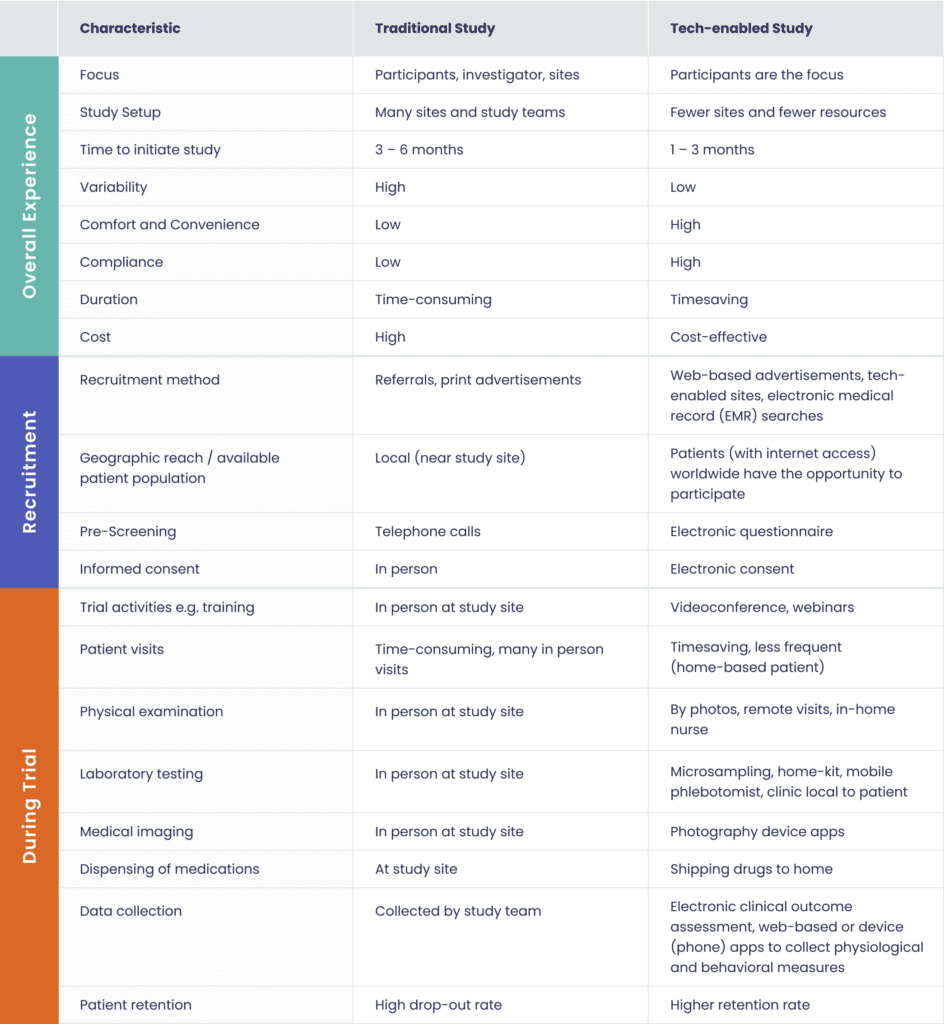 3. Vial Clinical Trial monitoring and study management system
Working with sponsors, site staff and patients, Vial aims to conduct trials which are cost-effective and timesaving for sponsors, convenient for patients, and of higher quality in order to accelerate timelines in bringing new therapies to market.

The Vial clinical trial study management system (CTMS), VialConnect, is digital from start-up to close-out and allows cross-organizational efficiencies between the sponsor, CRO and sites. All investigator site files, electronic logs and participant binders can be created, edited, distributed, collected, signed and reviewed electronically. A single platform for documents enables the tracking of expired documents, missing signatures, and outstanding tasks centrally. VialConnect and CRO remote monitoring capabilities enables the project team to manage the study more efficiently by remotely tracking project milestones, site progress, document status and outstanding tasks (please see Figure 2). Clinical trial databases (eSource and EDC) can be updated and site data collection times and errors reduced (Eisenstein et al., 2020).

Additionally, to expedite subject recruitment timelines, Vial developed an EMR filtration tool, included in VialConnect, which easily identifies potential subjects from the site's patient database based on specific study criteria. See VialConnect for more info.
Figure 2: Vial Technology-enabled Remote Monitoring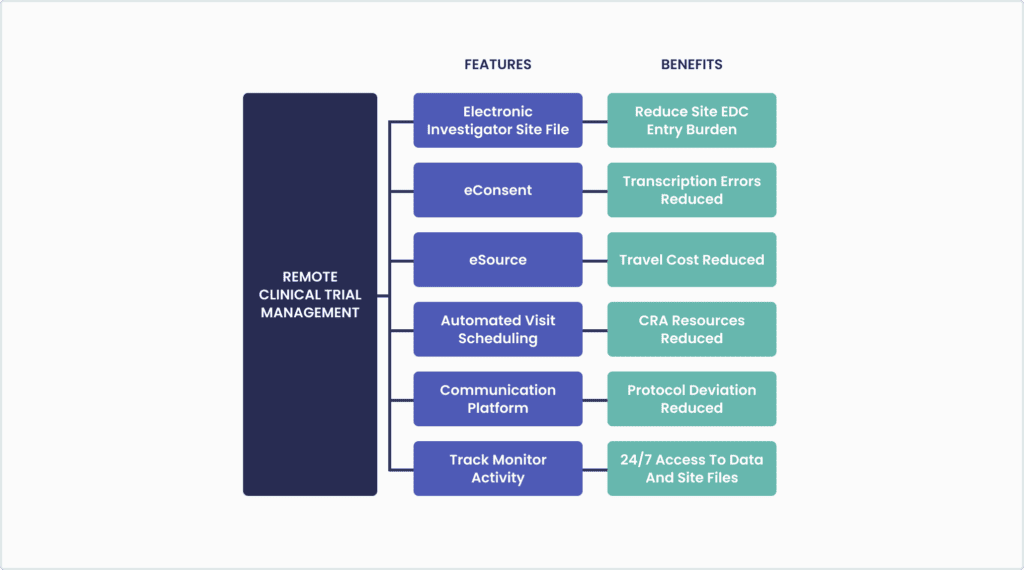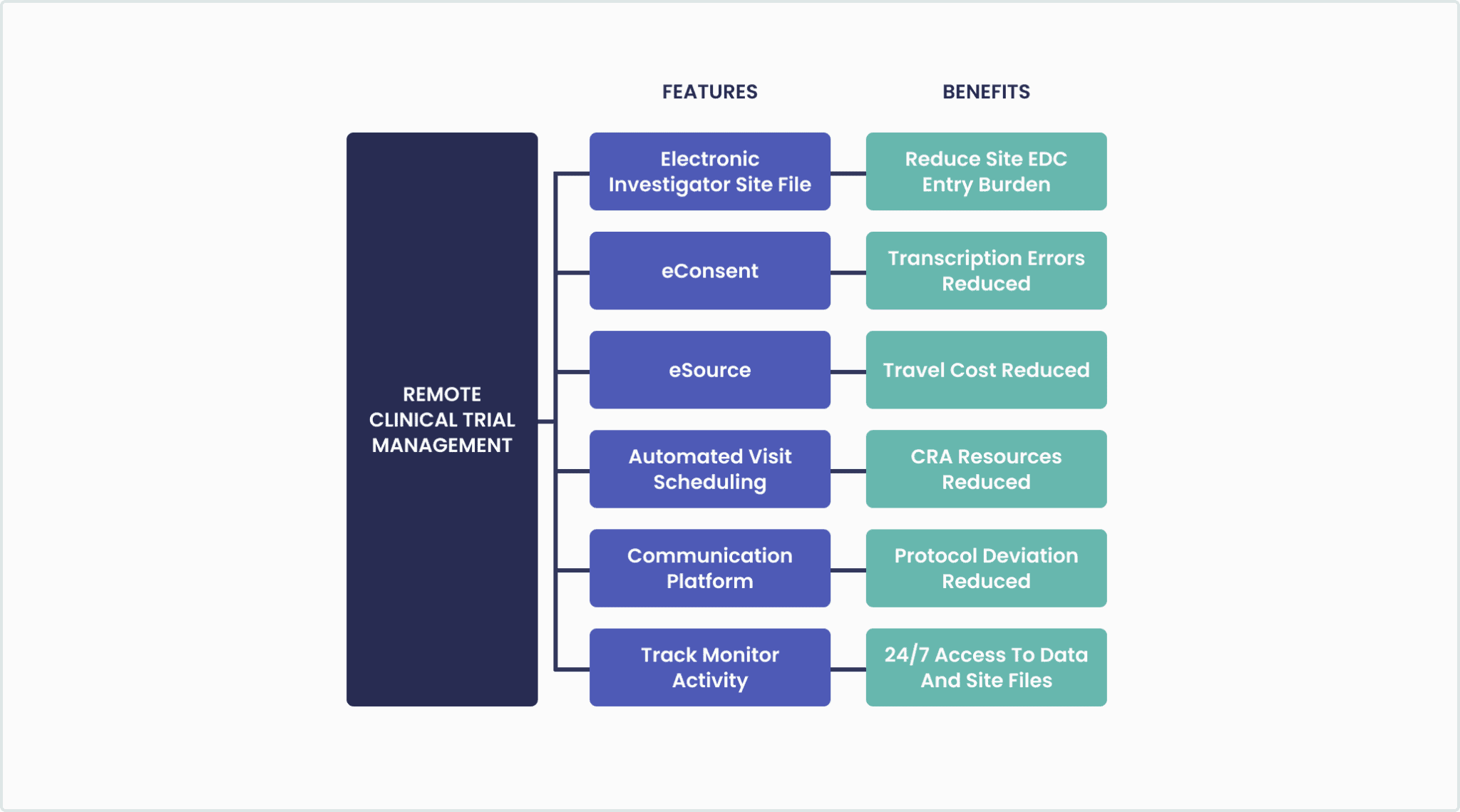 4. Conclusion
The reimagining of clinical trials and development of technology platforms to support them requires an understanding of the experience of stakeholders in the current state and the opportunities for improvement. A technology platform that provides a seamless clinical trial infrastructure and takes into consideration the perspective of all stakeholders, demonstrates its impact on addressing prevailing challenges and delivers the advantages of tech-enabled remote monitoring to one, multiple or all stakeholders simultaneously.
References
National Academies of Sciences, Engineering, and Medicine; Health and Medicine Division; Board on Health Sciences Policy; Forum on Drug Discovery, Development, and Translation, Shore, C., Khandekar, E., & Alper, J. (Eds.). (2019). Virtual Clinical Trials: Challenges and Opportunities: Proceedings of a Workshop. National Academies Press (US).
Rosa, C., Marsch, L. A., Winstanley, E. L., Brunner, M., & Campbell, A. N. (2021). Using digital technologies in clinical trials: Current and future applications. Contemporary Clinical Trials, 100, 106219. https://doi.org/10.1016/j.cct.2020.106219
Ali, Z., Zibert, J. R., & Thomsen, S. F. (2020). Virtual Clinical Trials: Perspectives in Dermatology. Dermatology (Basel, Switzerland), 236(4), 375–382. https://doi.org/10.1159/000506418
Izmailova, E. S., Ellis, R., & Benko, C. (2020). Remote Monitoring in Clinical Trials During the COVID-19 Pandemic. Clinical and translational science, 13(5), 838–841. https://doi.org/10.1111/cts.12834
Eisenstein, E. L., Garza, M. Y., Rocca, M., Gordon, G. S., & Zozus, M. (2020). eSource-Enabled vs. Traditional Clinical Trial Data Collection Methods: A Site-Level Economic Analysis. Studies in health technology and informatics, 270, 961–965. https://doi.org/10.3233/SHTI200304