Download the white paper on tech-enabled remote monitoring here.
1. Introduction
The global biotech industry's growth has created increasing needs for clinical trial infrastructure that enables the fast execution of clinical trials, while maintaining high quality. Technology platforms hold promise to provide a seamless clinical trial infrastructure for biotech companies by improving recruitment and retention, data collection and data analytics.
1.1 Challenges in clinical research
Traditional clinical trial systems are burdened with inefficiencies caused by multiple factors affecting sponsors, contract research organizations (CROs), clinical research associates (CRAs), site staff and patients 1,2,3,4.
poor recruitment and retention
lengthy data management processes
issues in selecting and maintaining good sites
the need to develop high-quality data collection tools
financial, physical and time pressure on patients due to on-site appointments
operational complexity and expense of clinical trials
extended timelines
insufficiencies in clinical research workforce
New approaches have been applied to recruitment, obtaining informed consent, capturing remote outcome measures, and delivering interventions, with some trials being run fully on technology platforms. To ensure compliance and safety of trial participants, the US Food and Drug Administration (FDA) has released guidance for industry, investigators and other stakeholders conducting trials enabled by technology platforms 6.
1.2 Increased Use of Technology in Clinical Trials
Apart from COVID-19, the choice of virtual over traditional clinical trials reflects the growing body of evidence on its impact on clinical research. On recruitment, the Metastatic Breast Cancer Project signed up almost 3,000 volunteers in its first year by using social media, with 95% completing the required survey7, and a recent study found that recruitment online vs offline had a significantly lower cost per enrollee (US $72 vs US $199)8.

Depending on study design and type of data needed, trials enabled by technology platforms may be conducted centrally with multiple trial sites and remotely for some data capture (hybrid), or remotely from start-up to close-out (fully virtual) as in Figure 1.
Figure 1. Clinical research by location and data capture method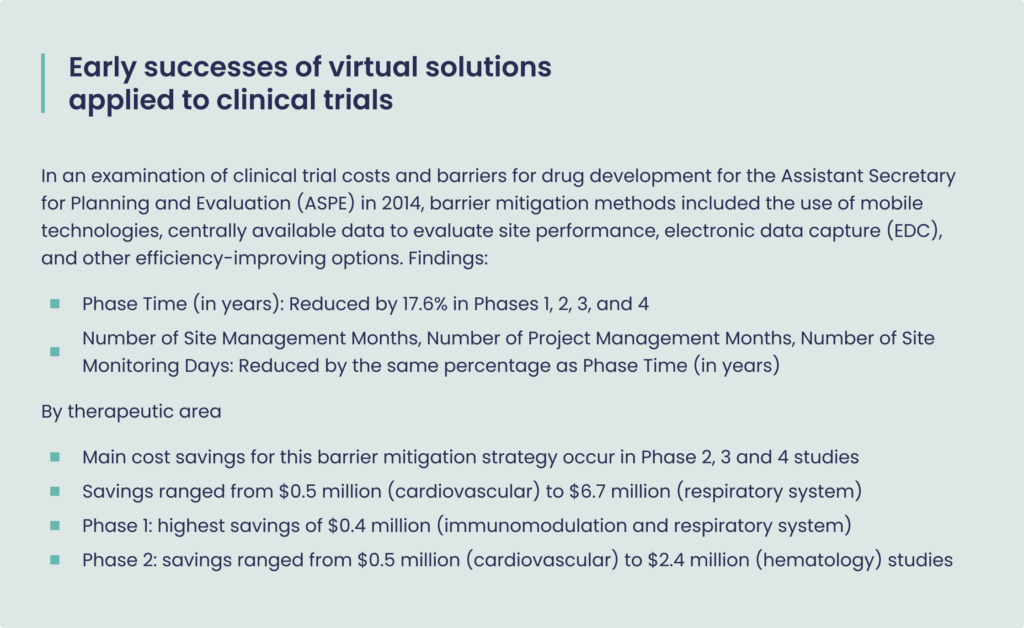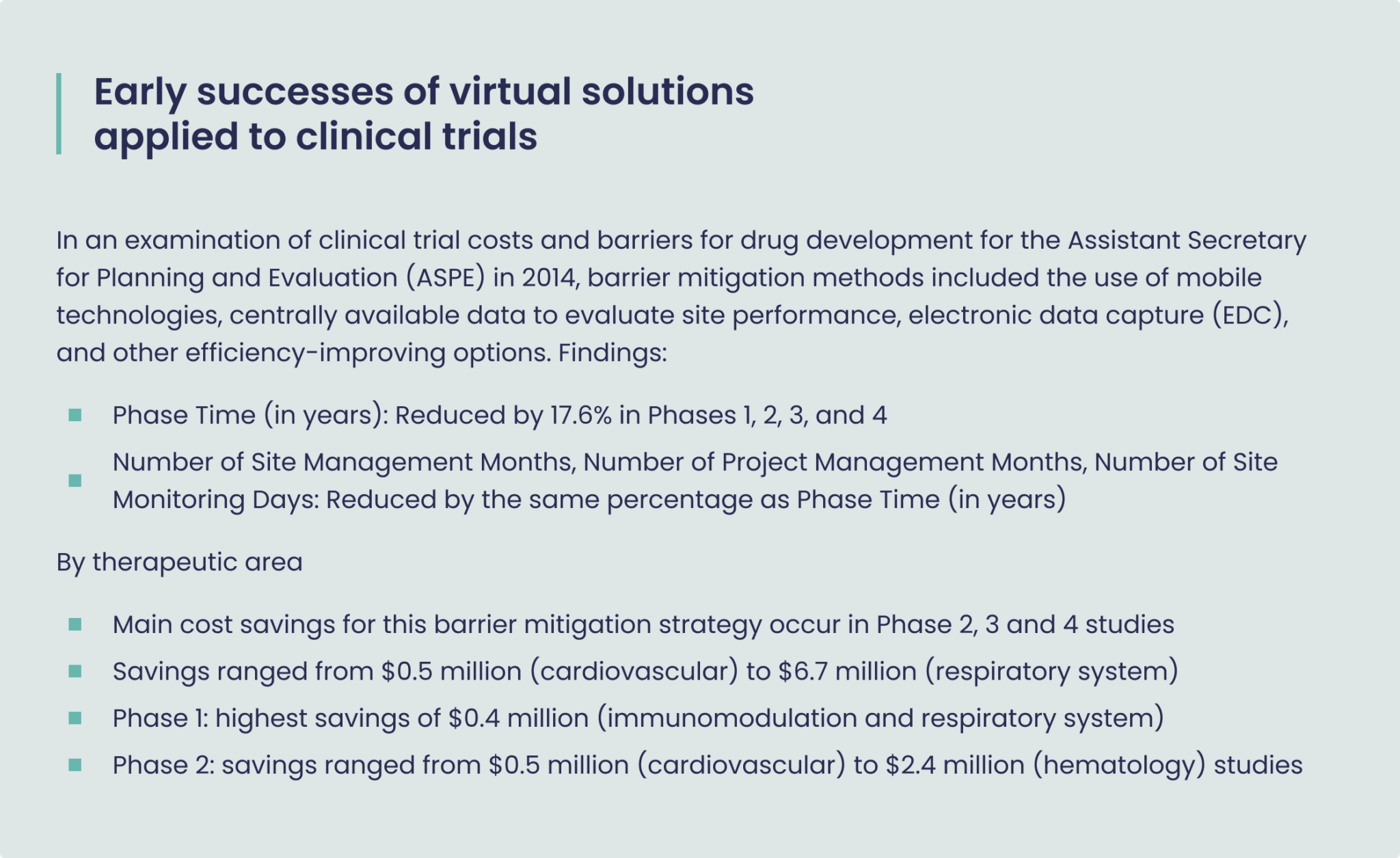 2. Reimagining clinical trials
Building on early successes of technology platforms being applied in clinical trials, Vial is developing tools to assist with tech-enabled remote monitoring (Figure 2). Working with sponsors, CROs, CRAs, site staff and patients, Vial aims to conduct trials which are cost-effective, timesaving, convenient for patients and of higher quality in order to bring new therapies to market.

Taking the step from traditional clinical trials to virtual may be daunting and begins with the design of a tech-enabled system using evidence-based principles. Best practices include selecting technologies appropriate for the research objectives while using a user-centered approach in study design, proactively addressing data privacy and security, ensuring appropriate metadata is collected, and taking regulatory status and IRB requirements into account (Inan et al., 2020)10. Concerns over data quality, compliance and continuity, maintaining patient safety, privacy and engagement, as well as uncertainty around FDA guidelines are taken into consideration by the technology, clinical operations and regulatory teams at Vial.
Figure 2. Vial's Tech-enabled Remote Monitoring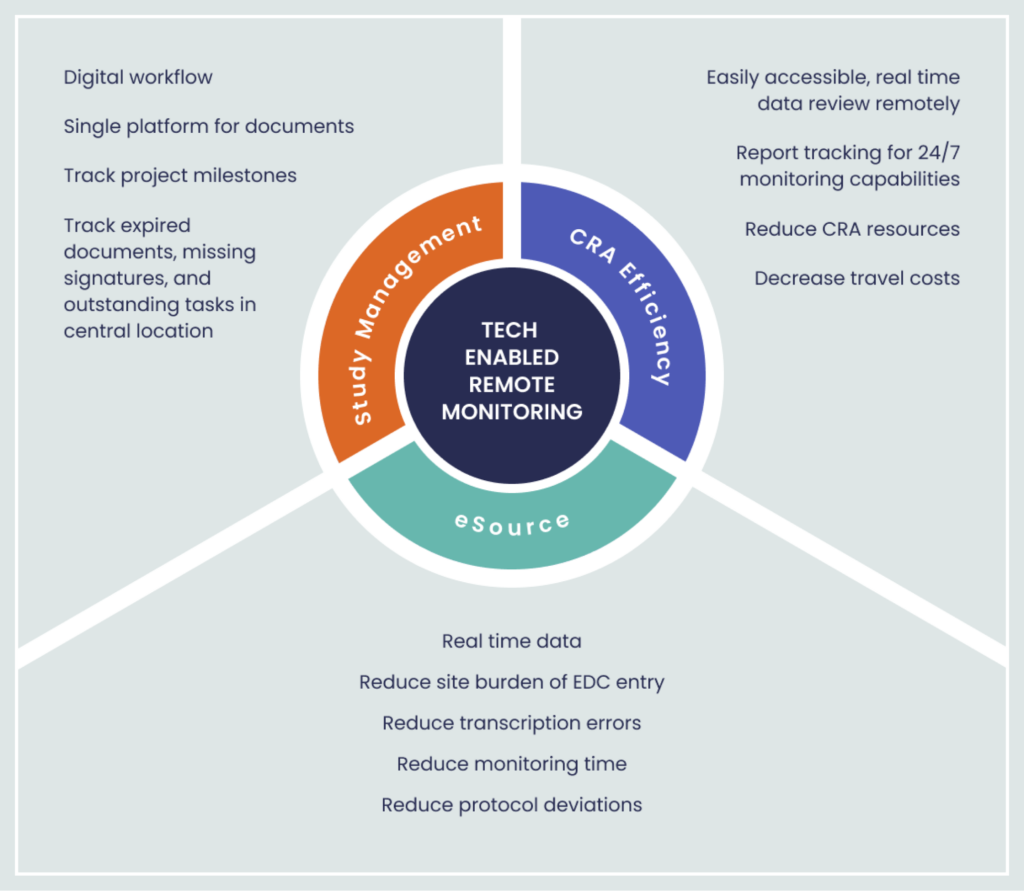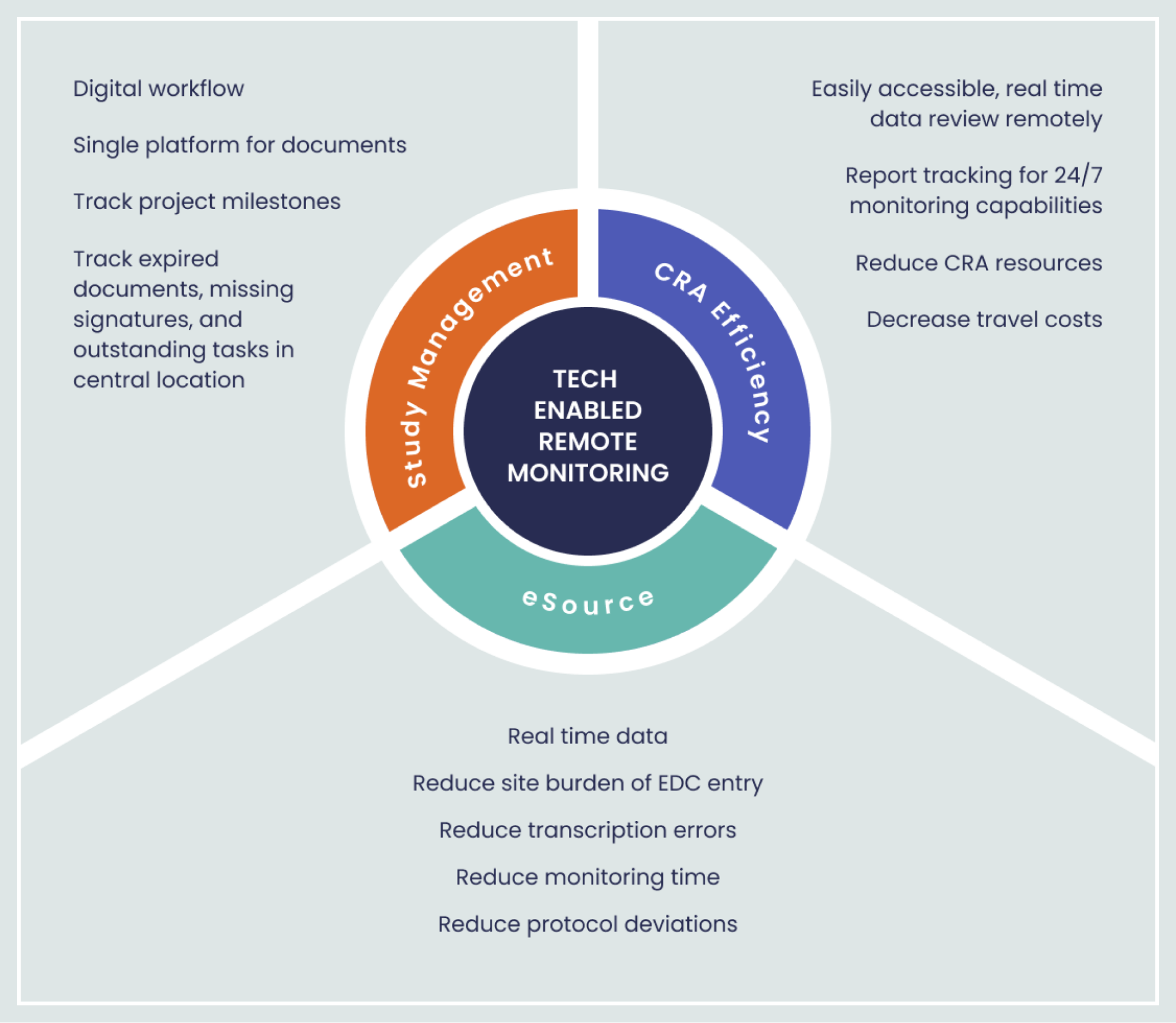 Table 1. Mapping prevailing challenges in clinical research to Vial virtual solutions and associated impact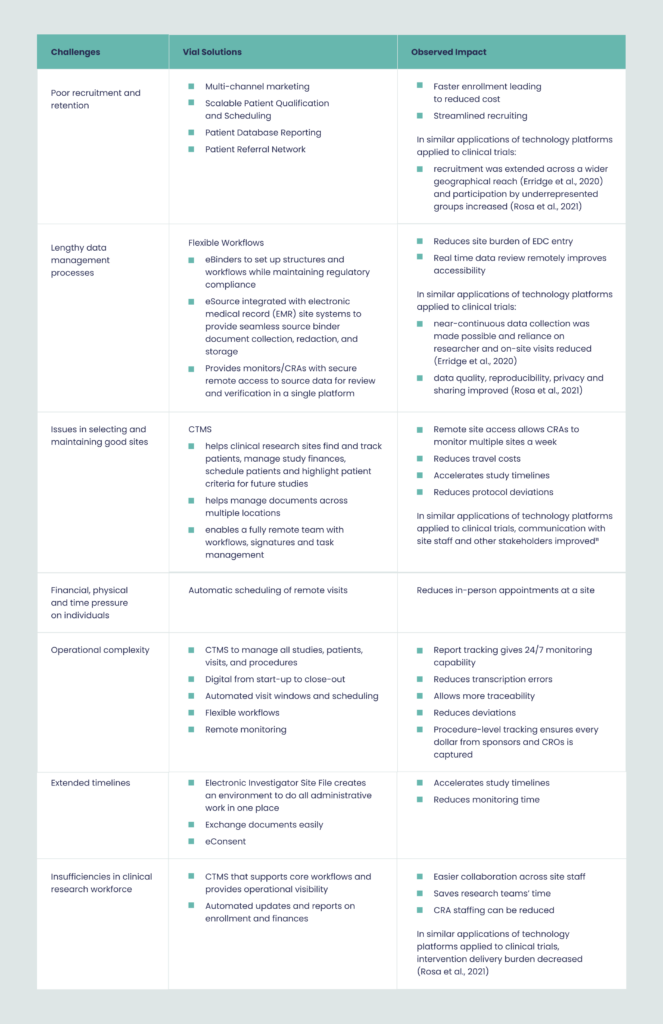 3. Conclusion
Grounded on a firm understanding of the challenges faced in clinical research, tools developed for tech-enabled remote monitoring have already proven to be cost-effective, timesaving and convenient for patients. Continuous improvement and innovation will produce higher quality clinical trials with faster execution in order to accelerate new therapies being brought to market.
References
1. Duley, L., Gillman, A., & Duggan, M. et al (2018). What are the main inefficiencies in trial conduct: a survey of UKCRC registered clinical trials units in the UK. Trials, 19(15). https://doi.org/10.1186/s13063-017-2378-5
2. Erridge, S., Majeed, A., & Sodergren, M. (2020, July 6). Virtual trials: Looking beyond covid-19. The BMJ Opinion. Retrieved May 17, 2022, from https://blogs.bmj.com/bmj/2020/07/06/virtual-trials-looking-beyond-covid-19/
3. Eichler, H. G., & Sweeney, F. (2018). The evolution of clinical trials: Can we address the challenges of the future? Clinical Trials, 15(1_suppl), 27–32. https://doi.org/10.1177/1740774518755058
4. Examination of Clinical Trial Costs and Barriers for Drug Development. (2014, July 24). ASPE. Retrieved May 17, 2022, from https://aspe.hhs.gov/reports/examination-clinical-trial-costs-barriers-drug-development-0
5. McDermott, M. M., & Newman, A. B. (2021). Remote Research and Clinical Trial Integrity During and After the Coronavirus Pandemic. JAMA, 325(19), 1935–1936. https://doi.org/10.1001/jama.2021.4609
6. U.S. Food & Drug Administration. (2022, January). Digital Health Technologies for Remote Data Acquisition in Clinical Investigations. Retrieved May 21, 2022, from https://www.fda.gov/regulatory-information/search-fda-guidance-documents/digital-health-technologies-remote-data-acquisition-clinical-investigations
7. Inan, O. T., Tenaerts, P., Prindiville, S. A., Reynolds, H. R., Dizon, D. S., Cooper-Arnold, K., Turakhia, M., Pletcher, M. J., Preston, K. L., Krumholz, H. M., Marlin, B. M., Mandl, K. D., Klasnja, P., Spring, B., Iturriaga, E., Campo, R., Desvigne-Nickens, P., Rosenberg, Y., Steinhubl, S. R., & Califf, R. M. (2020). Digitizing clinical trials. Npj Digital Medicine, 3(1). https://doi.org/10.1038/s41746-020-0302-y
8. Brøgger-Mikkelsen, M., Ali, Z., Zibert, J. R., Andersen, A. D., & Thomsen, S. F. (2020). Online Patient Recruitment in Clinical Trials: Systematic Review and Meta-Analysis. Journal of Medical Internet Research, 22(11), e22179. https://doi.org/10.2196/22179
9. National Academies of Sciences, Engineering, and Medicine; Health and Medicine Division; Board on Health Sciences Policy; Forum on Drug Discovery, Development, and Translation, Shore, C., Khandekar, E., & Alper, J. (Eds.). (2019). Virtual Clinical Trials: Challenges and Opportunities: Proceedings of a Workshop. National Academies Press (US).
10. Rosa, C., Marsch, L. A., Winstanley, E. L., Brunner, M., & Campbell, A. N. (2021). Using digital technologies in clinical trials: Current and future applications. Contemporary Clinical Trials, 100, 106219. https://doi.org/10.1016/j.cct.2020.106219
11. Mitchell, E. J., Ahmed, K., Breeman, S., Cotton, S., Constable, L., Ferry, G., Goodman, K., Hickey, H., Meakin, G., Mironov, K., Quann, N., Wakefield, N., & McDonald, A. (2020). It is unprecedented: trial management during the COVID-19 pandemic and beyond. Trials, 21(1). https://doi.org/10.1186/s13063-020-04711-6